HideMyAss (HMA) is one of the most prolific VPN providers and is based in the UK. Their excellent VPN client is easy to setup and use. Over the years HMA has continued to offer other privacy services, such as a free anonymous proxy, anonymous emails, anonymous referral stripper.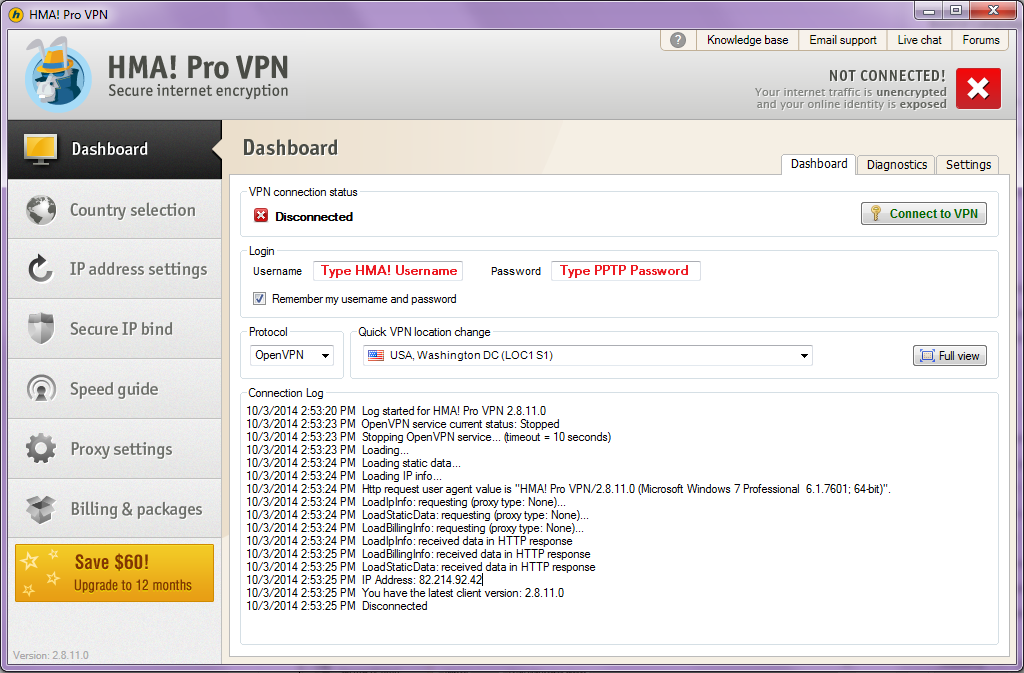 The referral stripper is an interesting product, as it allows webmasters to hide the origins of links on their website. When you click a link to a 3rd party website, the owner of that website can normally track where that click is coming from.
HideMyAss has grown to one of the largest VPN providers in the last few years, we attribute this to the fact that they were so popular in the community with their anonymous proxy.
Plans & Pricing
HideMyAss has a straightforward offering, and we love this. They offer Kick-ass, Half-ass & Smart-ass plans. These are for 1, 6 & 12 months respectively. The prices are as follows:
1 month $11.52
6 months $49.99
12 months $78.66
Buying a plan for a year saves you 43%, and comes out at $6.55 / month. Some other competitor VPN services can be cheaper but when when you consider great support and the extra features you can see why HMA demands a slight premium, and if you buy for longer than a month then the prices are similar. HMA supports many different payment methods including PayPal, you can see the full list below.
HideMyAss' Features
HMA has over 788 VPN servers in 261 locations in 151 countries, these numbers are something that their competitors can only dream of. They have 104,173 IP addresses under their control, all of which you will have access to, and new servers IP addresses & servers are being add being added every month. HMA has expanded their network by over 40% in the last year alone (February 2014 to February 2015). In Ireland HMA has 2 high bandwidth VPN servers and 222 IP addresses.
Adding to the customer experience, HMA doesn't limit based on bandwidth usage, and all severs can be used. HMA supports the major VPN protocols, namely OpenVPN, L2TP & PPTP.
HMA supports all major operating systems, with desktop clients for OSX & Windows. For Linux users it supports configuration with Linux CLI OpenVPN Client. HMA has iOS & Android apps available for your smart phone or tablet. From the software you can select which server you would like to use, or just select the fastest server available. Selecting the fastest server looks at latency, server load & bandwidth available.
Main Advantages
The outstanding feature we've seen, compared with their competition is the fact that they have a whopping 30 day money back guarantee. Competitors typically offer between 48 hours – 7 days so HMA really offers something extra here. HMA wants to make sure that the VPN software can do everything you expect from it. HMA doesn't offer free trials because of the high level of fraud that is done with such services.
HMA's promise to it's customers is that support to email will be done within 24 hours. When we tested this we got a reply in just under 2 hours. Additionally to email support they have live chat and an active support forum.
Disadvantages
To keep this review balanced we should also outline some of the negative aspects to HideMyAss. HideMyAss does keep logs, and in the past they have given these logs to the police. As they are a UK company they are obligated to adhere to the laws of England and Europe. In 2011 there was a case where alleged members of Lulz Security (LulzSec, a black hat computer hacker, similar to Anonymous) were identified as being HMA customers. HMA doesn't keep logs of your activity when using their VPN, rather they store when you connect and disconnect. If you are not planning on using a VPN for hacking or any other illegal activities then you have nothing to worry about.
Signup for HideMyAss
You can sign up for at HideMyAss.com. They often do special offers and discounts for new customers at certain times of the year (Christmas, Black Friday & Easter). The link above will bring you to get their latest offers.
Technical Details for HideMyAss
Supported Protocols:
OpenVPN
SSL
L2TP/IPSec
PPTP
Supported OS:
Linux
Windows
Linux (Fedora)
Linux (Ubuntu)
Mac OS X
Windows 7
Payment Methods:
American Express
AlertPay
Bitcoin (on 6 & 12 month plans)
2CO
Google Checkout
Wire-Transfer
Bank Wire transfer
iDEAL Banking
Onebip (SMS)
WebMoney
Credit Card
Master Card
Visa
Paypal
Supported Devices:
AppleTV
DDWRT Router
Maemo
iTouch
Boxee
Windows Mobile
Android
iPad
iPhone
Our Rating